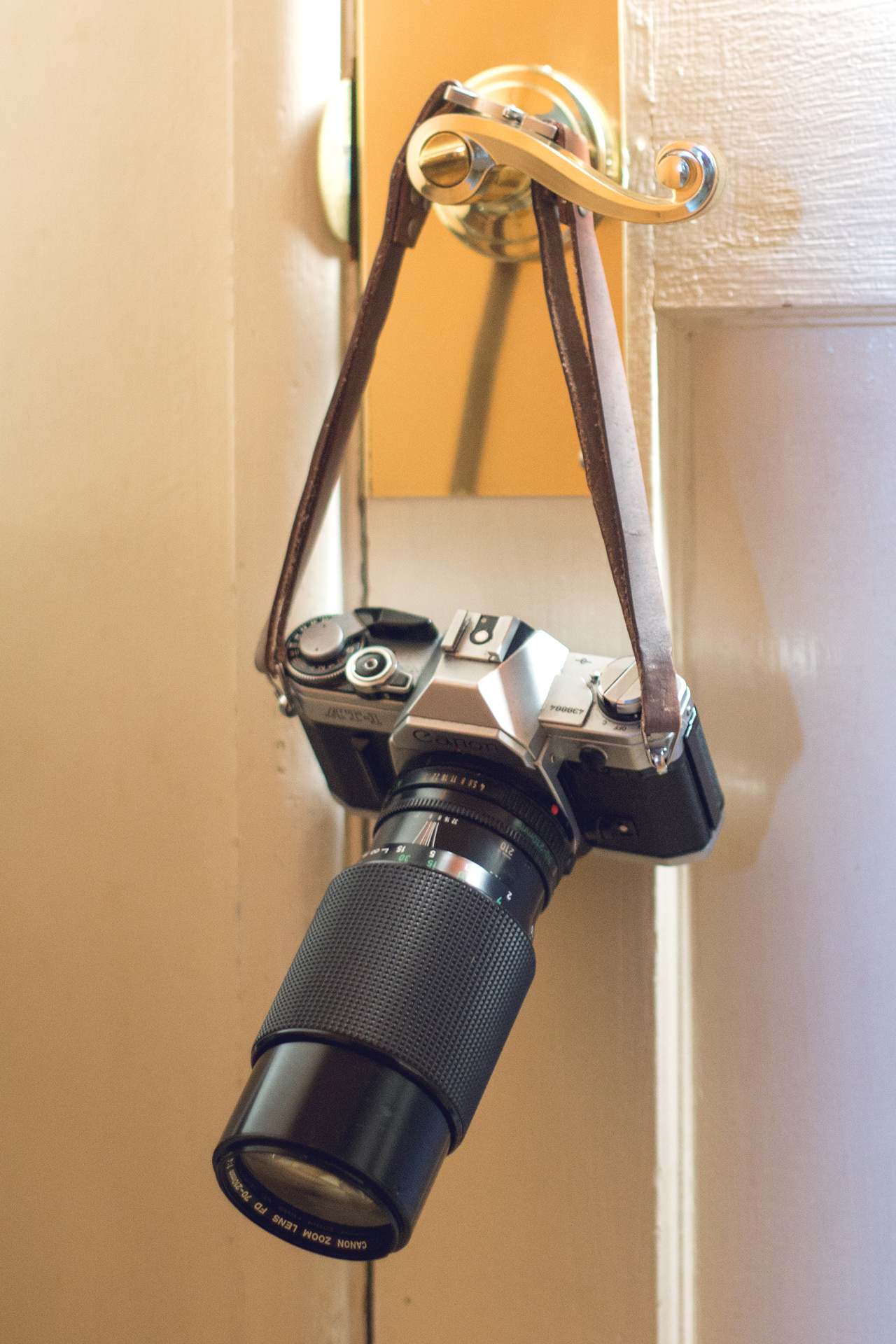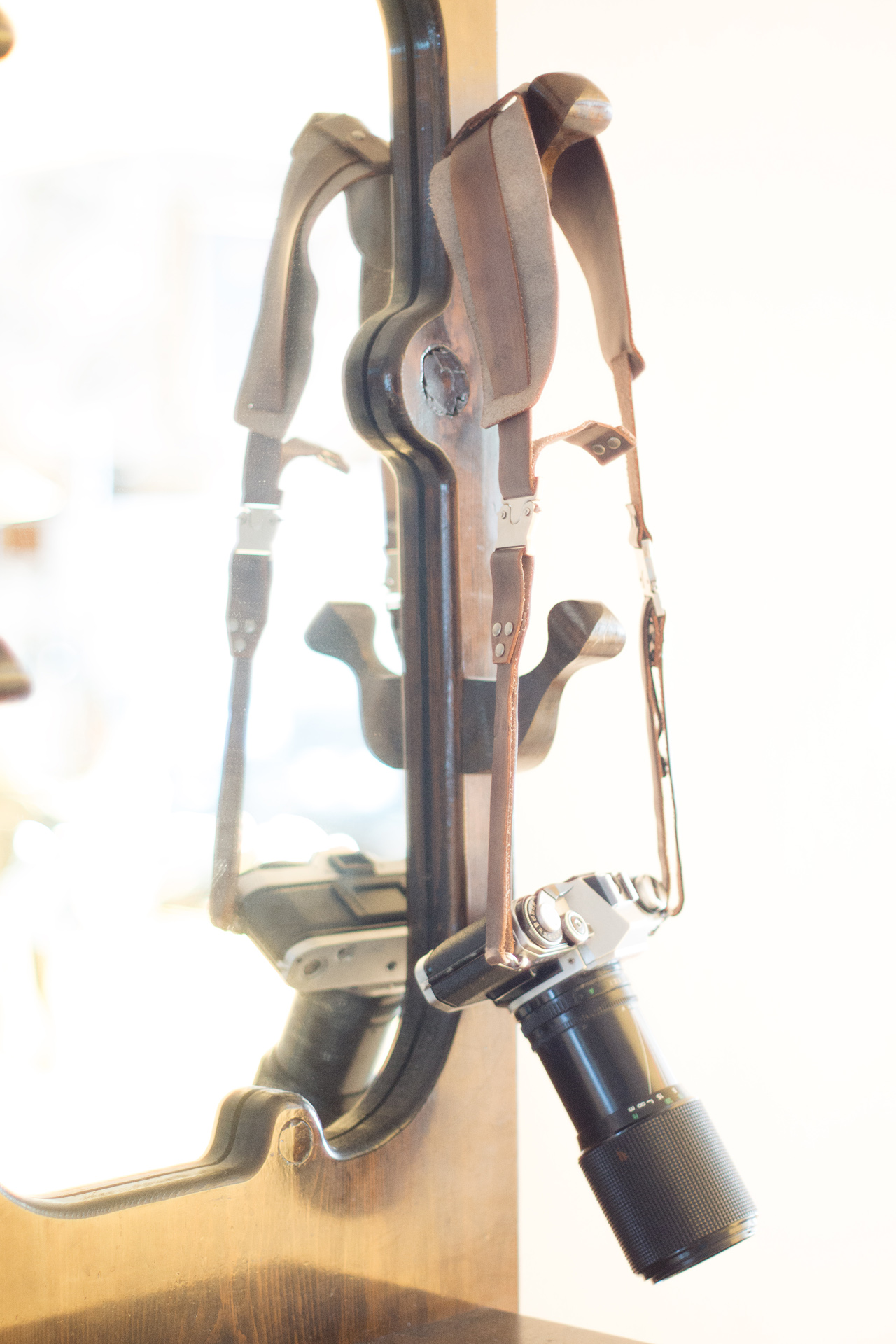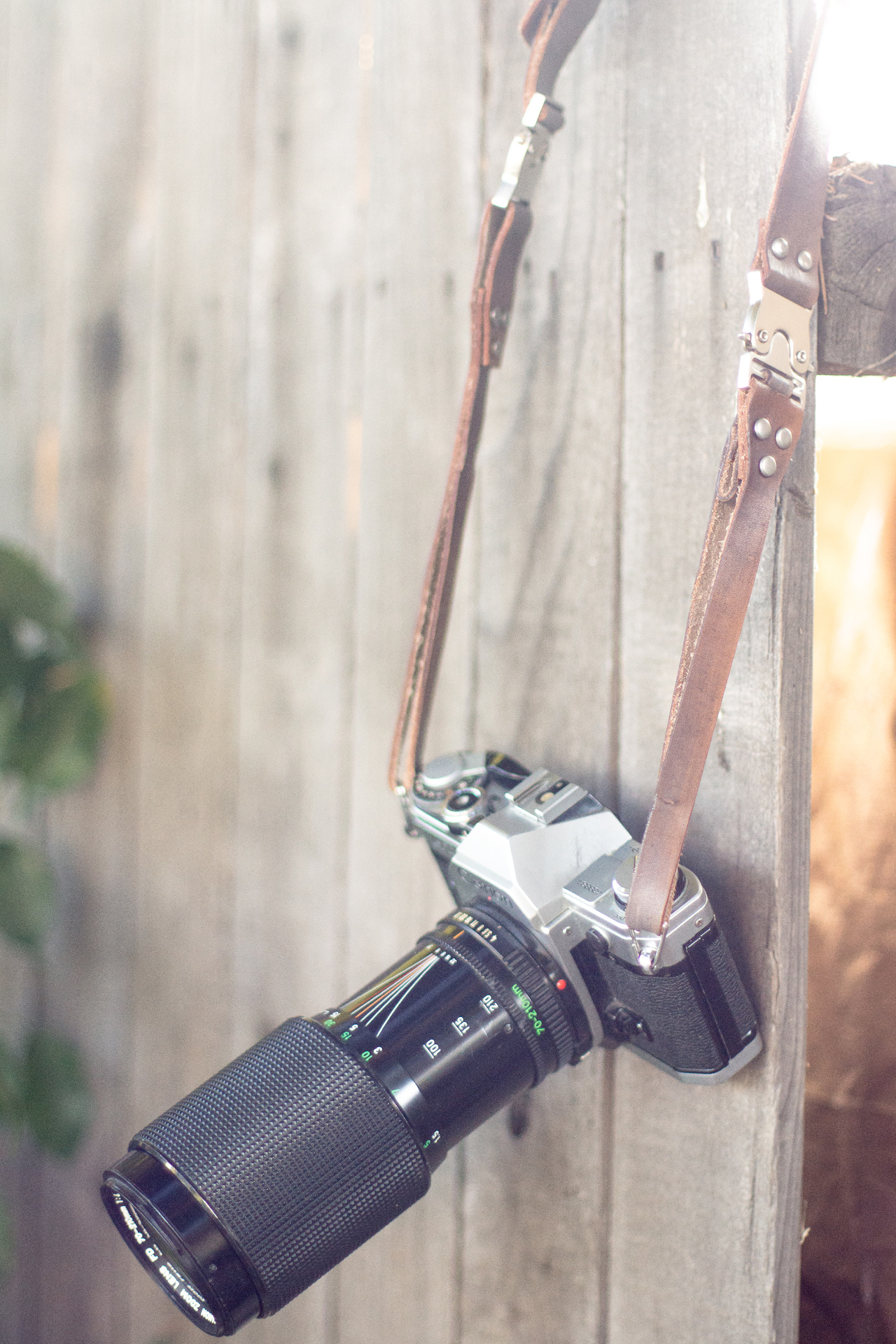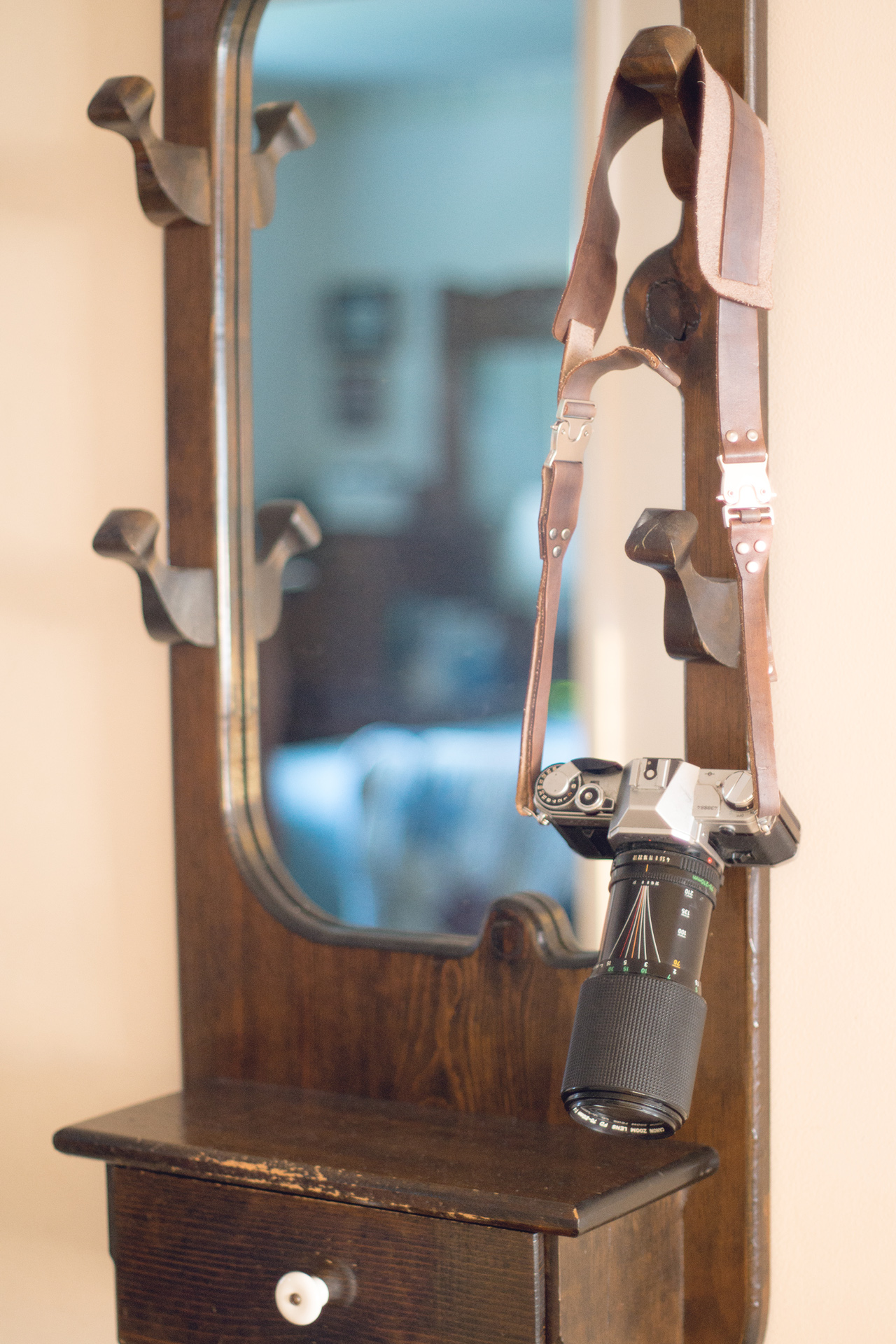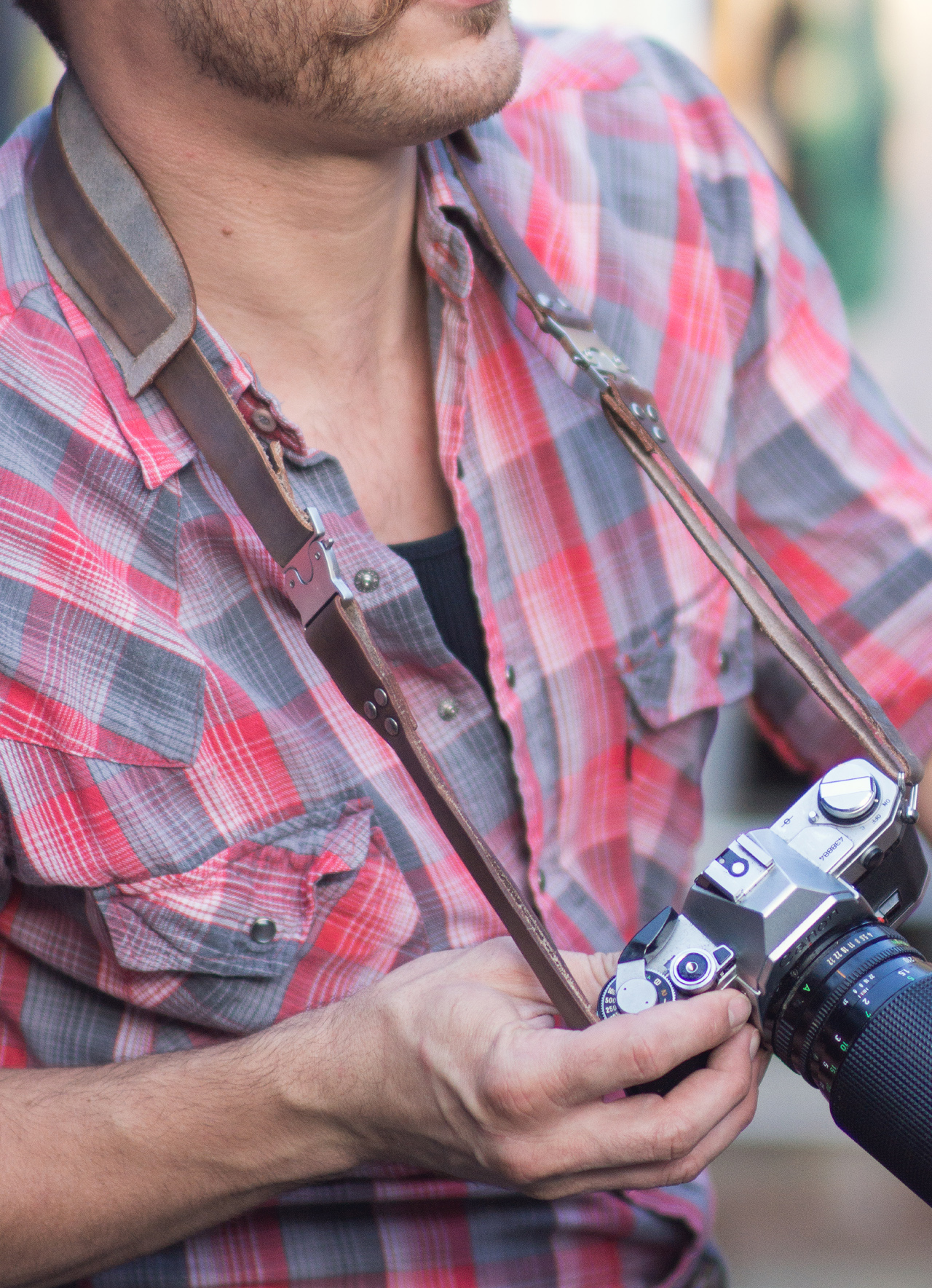 Heavy Duty Leather Modular Camera Strap
---
This camera strap has been meticulously designed to be highly functional, durable, and fashionable.
We start with sheets of undyed leather which we then cut into pieces and stain before finishing the assembly.
The unique buckles are metal and are quite strong; way more than enough to support even heavier camera gear.
Redundant rivet use ensures that all leather-to-leather attachments are sturdy and reliable. The ends of the adjustable pieces are folded and riveted to add security by preventing slide-outs.
The neck strap has a supplemental sliding bolster to distribute weight more widely with an in-built keeper in the back. With the particular buckle arrangement you have the option of entirely removing the neck strap for use on a tripod or if you simply want to carry on the wrist. Both the neck and the camera pieces have individual adjustments for enhanced customizability.
The combined adjustability of the strap allows it to go from 25″ to 38″ long, a reasonable accommodation for most users.
The main strap varies from 1/2″ at the camera to 1″ the the neck, with the slider being about 2.5″ wide.
We designed this strap intending for it to be durable and reliable. To that end we have subjected it to excessive weight-bearing and strangely violent activities such as jumping around with a heavy camera/lens on.
Our process allows a good deal of customization including dye color, hardware tone, and engraving/branding on the strap itself.
We can do a vintage gray-brown wash (pictured), a dark brown dye, or leave the leather natural.
We offer antique nickel (pictured) or antique brass finish on the hardware.
We can engrave your logo/name/artwork/brand into the strap itself, or add a special piece just for that.
If you are interested in a custom leather strap, but aren't entirely sold on this design, please feel free to contact us.
We welcome inquiries or requests or questions for that or any other reason.
If you want to know something that we haven't described here, likewise feel free to send us a message!
Find this item and more here: